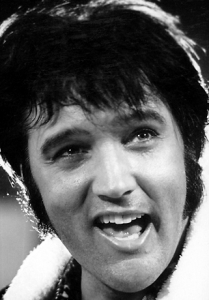 This is a 'GREAT WATCH' ! It's modern in the way it just clips around your wrist, but at the same time it depicts the KING himself on stage at serveral of his 70's Concerts.
Specifications:
Face: 2 inches in diameter
3 6 9 are stone set
Case: stainless steel
Bangle: Enamelled
When Elvis met Led Zeppelin in Las Vegas, for the first time he is reported to have swapped his $5,000 watch for bassist John Paul Jones's $10 Mickey Mouse one – 'Only Elvis could have done such a thing' !
The King had an amazing array of watches from simple fun pieces to the very best money could buy, many of which are in Graceland and private ownership.
Elvis Presley was an explorer of vast new landscapes of dream and illusion.