Product Description
---
---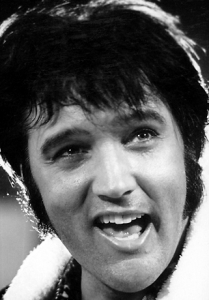 This 'TCB' Taking Care of Business in a Flash, is a copy of Elvis's Original Design Hence the name 'Original'. The initials TCB are around a bolt of lighting, this Silver Pendant is on a 20 inch Gold Chain, and has been beautifully hand crafted in Gold.
Specification: Material:Gold Size: 1-1/2 x 3/4″ Chain: 24″ Comes beautifully Boxed – a perfect gifta
Elvis designed a lot of his own jewelry, and this is his most famous Piece the 'TCB' (Taking Care of Business), featuring a zig-zagged lightening bolt set between the letters.
He gave the TCB necklaces only to close members of his entourage, special friends, executives at RCA, and Lowell Hays, his personal jeweler, who created all of Elvis' jewelry.
Anyone who was presented with a TCB necklace was given a copy of the TCB oath below.
The TCB Oath
1.  More self respect, more respect for fellow man.
2. Respect for fellow students & techniques.
3. Body conditioning.
4. Mental conditioning.
5. Meditation for calming & willing of the mind & body.
6. Sharpen your skills increases mental awareness for all those who might choose. a new outlook and personal philosophy.
7. Freedom from constipation.  ( Yes Elvis had a great sense of humour)!!
'Elvis 1977 during his last tour' "Till we meet you again, may God bless you. Adios.