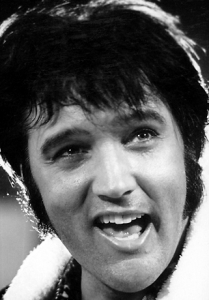 Elvis Presley's Passion for Jewelry
The most memorable, exciting personality in American music was born January 8, 1935 in a two-room plank shack in East Tupelo, Mississippi, on the wrong side of the railroad tracks. He won his first prize for singing at the age of 10. By 19, he had made his first record and become a worldwide sensation as a rock and roll singer.
Extraordinary entertainer, enigmatic myth, Elvis Presley lives on as legend nearly three decades after his death at the age of 42 on August 16, 1977.
Today, in 2015, he is more popular than ever—thousands of fans still flock yearly to his Graceland mansion—and sales of his albums top one billion. In the South, they talk about Elvis and Jesus in the same breath.
Elvis' Love Affair with Jewelry
Everything about Elvis was larger than life! He grew up dirt poor, but when he achieved International stardom, success allowed him to realize his childhood dreams of an opulent lifestyle.
Elvis became a spiritual man who not only loved beautiful things; he had a strong appreciation of natural beauty and loved nature and animals. However, Elvis' passion for all that money could buy was all consuming and as legendary as the performer himself.
He was an avid collector of cars, motorcycles, clothes, and jewelry. Paradoxically, he loved to give his possessions away, to those people who meant the most to him—and to complete strangers.   The man who loved all that glitters was gone too soon, but the jewelry he took great pride in designing himself, and wearing onstage and off, resides in museums and in private collections of friends. Even fans lucky enough to be at the right place at the right time, have rings and other jewels the famous jewelry collector gave them at concerts.
The 'King of Rock and Roll' epitomized fame and fortune, and his jewelry collection befitted the 'King' he became. Like the jewelry he wore, Elvis had a magical radiance; it shone from him like some crazy wonderful aura.   In concert he wore lavish diamond cross pendants hung on heavy gold chains; huge rings of rubies, sapphires and emeralds; gold bracelets and belts completely covered in jewels.
One outstanding outfit, worn in several concerts, was a jet black one-piece suit alive with intricate Native American designs inlaid with silver, turquoise, and coral, embellished with crescents of bone, and multi-coloured beads. A garnet cabochon-studded choker and huge gemstone-encrusted silver rings completed the look. By the 70's, as a regular performer in Las Vegas, Elvis was literally 'dripping in jewels', his onstage persona at once bizarre and magnificent—a powerful 'vision of a man' exuding a rare kind of elegance, be-jewelled as he was from head to toe.
Elvis also designed his own jewelry. His most famous jewelry designs are the TCB (Taking Care of Business) and TLC (Tender Loving Care) necklaces and rings, featuring a zigzagged lightening bolt set between the letters, inlaid with precious stones—many customized with diamonds, sapphires, or emeralds. Elvis, ever generous, handed out the TLC necklaces to just about every woman he ever met. He gave the TCB necklaces only to close members of his entourage, special friends, executives at RCA, and Lowell Hays, his personal jeweller, who created all of Elvis' jewelry. Mr. Hays remembers a feeling akin to being knighted when Elvis gave him a TCB necklace, so special this gift bestowed upon him by the 'King'